Kitchen & Bathroom Remodeling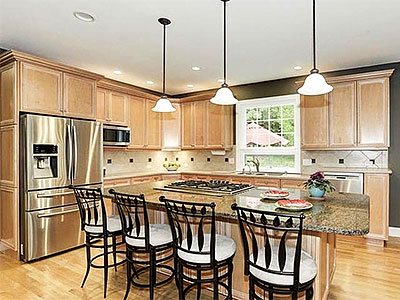 The kitchen and bathroom spaces in your home see a significant amount of wear and tear and the steam, smoke and water tend to make the installations and fixtures deteriorate much faster than those in the other areas of your home. It's not surprising that these areas start looking dull and drab very quickly.

Unfortunately, these rooms are also the most neglected when it comes to home remodeling projects. This is because most property owners look upon these rooms as functional spaces and they don't worry too much about the design concepts here. However, the fact is that getting your kitchen and bathroom remodeled is the one way to make these rooms more functional and pleasant to use. In fact a well-planned kitchen and bathroom upgrade can significantly add to the value of your home as well.

Lundberg Builders Inc. is a construction and home improvement company that caters to clients in and around Annapolis, Severna Park, Stevensville, Arnold and Chester. Over the years they have handled a large number of projects across Kent Island, Cape St Claire, Riva and Centreville. They have also created a strong customer base in Mayo, Easton and Chestertown. They can provide excellent bathroom and kitchen design and installation services:


Kitchen Remodel
As mentioned earlier, the kitchen sees a lot of use on a daily basis. Aside from this, the food fumes and smoke take their toll and make the features look dull and old. Getting a complete /partial kitchen remodel is the one way to spruce up the look of this space. The different features that can be part of this project are:


Flooring and wall tile replacement
Counter repositioning or new install
Island kitchen counter installation
Kitchen task lighting installation
Cabinetry
False ceiling and ventilation installation
Plumbing upgrade
Other
Bathroom Remodel
This project can be as complex as a kitchen remodel. The installations in the bathroom have to endure steam and water every single day and that can mar their appearance. The different things that can be part of a bathroom remodel are:


Wall and floor tile installation/replacement
Shower stall installation
Bathtub installation/replacement
Vanity cabinet installation
Installation of storage cabinets
Light fittings
Ventilation
Window replacement
Plumbing
Other

Since there are so many different services involved in a bathroom or kitchen renovation job, it becomes imperative to hire expert home improvement contractors that will be able to provide end-to-end solutions. They will discuss all the aspects of the project understand what your requirements and ideas are and then provide customized solutions with your budget in view.


Custom Kitchen Design and Planning
In fact, if you need this job to be done in phases, the company can cater to that requirement too. They will use high quality materials that will be able to withstand the heavy use that bathrooms and kitchens in most homes see.

When you are getting any bathroom remodeling work done, you want to be assured that the professionals will be able to provide custom solutions that meet your requirements. A company like Lundberg Builders Inc. can cater to your specific needs at a very competitive bathroom and kitchen remodeling cost.

"MORE ARTICLES"

Custom Home Builder
Construction Company
Handyman Services
Aging In Place
Design & Build